Court Case Wrap-up, October 23

one of the rare times when a Portland Police officer is actually facing charges for actions taken in the line of duty

We're starting to track more and more cases of public interest, which can always be viewed here, but it seems to make sense to do 'wrap-ups' to give a quick idea of things that have happened recently.
State Court Cases, Civil Cases
This week has been pretty quiet, even though we know there are a number of cases that are still coming up. One new case is Campbell v. City of Portland, a case that appears to be brought forth by a homeless veteran who makes allegations that 'stalkers' and 'criminal civil rights abusers' are not being arrested as they are supposed to, citing perpetrators associated with Black Lives Matter and anarchists. However, since specific incidents aren't alleged, and the fact that this didn't go through the police department, I suspect that it will be dismissed.
State Court Cases, Criminal Cases
This week was actually fairly busy when it comes to criminal cases, with movement on a few cases and a number of cases added to the watch list. In Toese v. Oregon, Judge Dailey revoked Tusitala 'Tiny' Toese's probation and sentenced him to 6 months in jail for numerous violations of his probation. Current jail records show a projected release date of December 21, 2020. Considering his arrest on September 1st, it appears he's already getting healthy reductions in that time. We'll continue monitoring this case in the meantime.
The Alan Swinny v. Oregon case also had a good bit of traction this week, with more court sealed motions filed and a denial by Judge Ryan for pre-trial release on recognizance. His lawyers do plan to file a request for a bail reduction from it's current amount of $534,000, but at this time no hearing has been scheduled.
A few new cases have been added to the list at the same time. Wolfskill v. Oregon and Parker v. Oregon are both cases in Marion County that allegedly stem from assaults that happened relating to a BLM protest in Salem in late September. The Wolfskill case is interesting in that they were cited for Assault 4, but the DA is charging them with Robbery 3, a felony as opposed to a misdemeanor. We're still waiting for more information into this case.
The last of the new cases added is one of the rare times when a Portland Police officer is actually facing charges for actions taken in the line of duty. In Groshong v. Oregon, the officer, now retired, is facing a litany of charges stemming from running into a looter during the early weeks of the George Floyd protests. The Portland Police Internal Affairs department is investigating, as he was an active officer at the time
Cider Riot
In May of 2019, Joey Gibson and a number of members of Patriot Prayer protested in Portland and then later gathered around Cider Riot where counter-protesters were gathered. The resulting encounter resulted in charges for six Patriot Prayer associated members, four of whom are still awaiting trial. Earlier this week Joey Gibson's attorney was in court attempting to put the squeeze on the DA to pin down exactly what he did that day that qualified as 'riot'. Obviously I'm coming to the story very late in the game, but hopefully as time goes I can get up to speed.
Campaign Finance Reform
A number of people sat in on the conference call in the State ex rel. Ofsink v. Mary Hull Caballero, where Alan Kessler pressed the city auditor's office to explain why they didn't follow the process the voters and city council laid out for investigating allegations of campaign finance violations. In this case, it was a $150,000 loan the current mayor, Edward 'Ted' Wheeler, gave to his campaign. Judge Ryan (the same judge responsible for denying Alan Swinney's pre-trial release) ordered the city to follow the process for the allegation, and after the election there will likely be more news about the outcome of that investigation.
---
Stay tuned to Raindrop Works, where we'll keep working to bring you in depth analysis of the back end of what happens with these cases and more!
Court Wrap-Up, Jan 10, the Transparency Files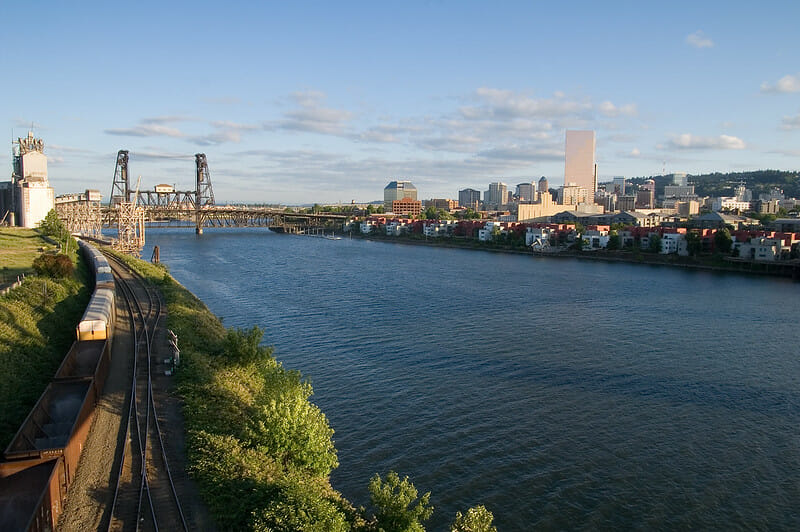 As I said Friday night when I posted my last wrap-up, I was going to tackle the government transparency lawsuits separately because of just how much was going on. I promised Sunday, so here we are!
The first case we look at is Buel v. Caballero, a case where the City Auditor is getting sued for not fining the Ted Wheeler campaign for donations in excess of limits voted for by the city. The difficulty is for a time, the limit in question was found unconstitutional, but overturned on appeal and found to be constitutional.
Mr. Buel asserted that while the appeal was ongoing, Friends of Ted Wheeler should have restricted donations, but the court ended up finding that "it is well accepted that when a court rules a statute, rule, or other government enactment to be facially unconstitutional, the government will not enforce that enactment until and unless the lower court s ruling is altered by a superior court", setting the bar too high to clear.
In other news of the city fighting to protect their own interests over those of it's citizens, we have the case of the city suing government transparency attorney Alan Kessler. In July Mr. Kessler sent a public records request to the city for text message metadata (timestamps, number and message IDs) sent or received by city owned cell phones (starting in 2017), which the city wanted to heavily redact and charge a hefty sum of $100,000 (at a very generous estimate, enough to pay for a dedicated employee for an entire year to the request) to process. Mr. Kessler raised issues with these details with the county attorney's office, as part of an appeal process, and the Multnomah County District Attorney's office sided with him, telling the city that they needed to provide the information with less redactions (which would also lower the costs).
The city disagreed with DA Schmidt's determination, and decided to file in county court against Mr. Kessler to try to dodge their duties. Also included were statements by city employees who claim their rights would be violated if their information was to be made public. Keeping in mind that the information requested was very limited, this seems to be a challenge in just how much information the government can legally keep hidden from us.
Court Case Wrap Up, Nov 13

This week has been a lot of self-recovery and time in bed (still not sure what I got hit with. Not sick, just -incredibly- tired). But some things have been happening in recent days and here's you're catch up. In the Montgomery v. Portland case, where Mr. Montgomery alleges he was tackled multiple times by police while following dispersal orders, the case has progressed to the point where Judge Lopez will be hearing pre-trial matters. Another recent case, Christiansen v. Portland, has been served on the city
In other civil cases, Corey Wyatt has responded in the Swinney, Wyatt and Willis case from federal detention, vociferously denying any of his involvement and announcing his intention to countersue for defamation and emotional damages. Mr Wyatt has his own criminal cases ongoing both in state and federal courts for unrelated incidents.
Our third civil case with recent changes is the ACLU suing on behalf of an unnamed protester for police illegally recording protests when there was no evidence of criminal activity. Judge Lopez has been assigned to the case, making this the third such protest related suit that has been randomly assigned to them at this time.
In criminal cases, as was reported by us previously, Marquise Love recently pled guilty to assault and riot, and was sentenced to 20 months in jail and three years post-jail supervision. To my knowledge, this is the first felony conviction to come from any of these protests, but that is solely because any other still pending cases have been pled not guilty.
In Salem, the Wolfskill case appears to have a not guilty plea entered, and Judge Wren has been assigned as the trial judge for that case.
Moving along to campaign reform cases, the writ of mandamus from late October's State ex rel case (more information available here) has been returned. Much of what was said in court was restated, that the rule was unenforceable and as such there was no violation. At this point, that gives the parties 30 days to file an appeal of the decision to the county, and we'll be watching to see if they do so. The response from the city is available to read here.
And finally, the last case that we've been actively tracking right now is moving surprisingly quickly. The city, suing lawyer Alan Kessler over a disagreement where the city attorney has sided with Mr. Kessler's view of proper redactions of a records request, has already had Judge Russell appointed as the trial judge. .

Newly seated Portland Commissioner Dan Ryan ran on a platform of that included divesting the Portland Police of more of it's budget, stating "We have to find ways to follow up on the $15 million cuts to the Portland Police budget with even more substantial cuts." On the night of October 28th, protesters, angry about months of increased police violence, gathered at his house ahead of a city budget meeting to make their voices heard about why these cuts were so necessary. The night before the vote, he stated that he wasn't sure how he wanted to vote. The next day, after hours of passionate testimony by his stakeholders, he, along with Mayor Wheeler, voted to delay the budget vote for a week.
A week which would take us past the election, and give both the sitting mayor and the commissioner a sense of how the council would look in the 2021 legislative future.
Of course, the city spoke, overwhelmingly supporting 26-217, the measure to rewrite the city charter to massively expand the civilian oversight over the Portland Police. They also barely re-elected Ted Wheeler, and elected Mingus Mapps over Chloe Eudaly to the city council. And in the following week's budget vote, any thought of further stripping of Portland Police funding was quietly scrapped.
Commissioner Ryan quickly showed his unwillingness to stand up for his campaign promises with his statement at the vote:
This $18 million proposal is a threat to our current public safety.

Commissioner Dan Ryan, November 5, 2020 City Council
I feel that Commissioner Hardesty summed things up best when she said:
I knew that when we were passing [city council] resolutions in June that Black lives wouldn't matter long […] It is disappointing that the status quo will reassert itself in this process. So we'll continue to talk about Black lives but we won't actually do anything to make these Black lives better

Commissioner JoAnn Hardesty, November 5, 2020 City Council
These statements have served to re-engage a number of protesters and police reform/abolitionist activists. While the election may be over, there are still options. Recall campaigns can be run after a candidate has been in office for 6 months. That timer has already started for Commissioner Ryan, and Mayor Wheeler's will start in January when his second term starts.
Local lawyer and transparency activist Alan Kessler has already filed the paperwork for a PAC specifically to start that exploration process. The PAC, named Total Recall, likely after the 1990 and 2012 movies by the same name, recently received approval by the Secretary of State's office and Mr. Kessler has announced via Twitter:
I have started the PAC to start fundraising. I do not have organizational capacity beyond that for a little while.

Alan Kessler (@alankesslr), November 6, 2020 Twitter
Raindrop Works has had a working relationship with Mr. Kessler for some time now, and we're glad to help get information out about this campaign as time goes.